5 Reasons You Should Already Be Listening to Magnolia Park
Rachael Sanders
Magnolia Park is creating some of the "hottest pop punk from Orlando, FL" with direction from known rock producers, Andy Karpovck and Andrew Wade. Andrew Wade's studio in Ocala, FL is known for producing subgenres alternative rock, metalcore, pop punk, post-hardcore, which comes in super clutch for rock quintet, Magnolia Park. The band has just released singles "Sick of It All" in July and "I can't fix it" in August. This week I gave Magnolia Park a listen to find out what makes them stand out in Florida's thriving rock scene.
1. "Sick of it All" is an Absolute Banger
"Sick of it All" is the first single released from their debut EP Dream Eater Mixtape (release dates TBA.) As the band describes it, the song is about "being tired of the world around you and how you are treated" not to mention, an apt metaphor for today's zeitgeist (that's right baby, bringing out the big words.)
 The song isn't talking about cough cough sick, it's talking about straitjacket sick. According to the CDC "The coronavirus disease 2019 (COVID-19) pandemic has been associated with mental health challenges related to the morbidity and mortality caused by the disease…including the impact of physical distancing and stay-at-home orders." The CDC reports that 40% of US Adults have reported struggles with mental health or substance abuse. These statistics point out the rising mental health crisis, especially in young adults and racial minorities. Magnolia Park seeks to break down mental health stigma and, in a Q&A with Punk Rocks! stated that, if suddenly millionaires, the band would work toward suicide prevention.
Whether it's BLM, the Yemen Crisis, or the recent attack on Lebanon, there's a lot of political issues to be mad about, be you mad like the hatter or just plain angry. Magnolia Park's addition of screaming vocals and heavy chugging guitars echo their own outrage over today's political climate. If you'll notice on their linktr.ee, the band is passionate about anti-racism. The recent BLM movement shook the alt rock community. To echo my first article "Challenging Racism in Alt/Punk…", if the alt scene seeks to challenge the mainstream, then we have been slacking in the past few years.  The BLM movement held a mirror up to us, and asked us to challenge our beliefs. As a direct result, more and more punk rockers have amplified POC voices in the scene.During interviews and on their twitter, Magnolia Park promotes other POC bands like Meet Me @ the Altar and Kaonashi. To echo EMO NITE's Aaron Brown, "Being black is the most punk thing you could possibly do."
In only a year and a half, the band has gained hella clout in their community and on social media. In between releasing singles, taping music videos, and ghost writing, the band finds time to respond to nearly every comment and 'like' on each social media page. They go out of their way to appreciate their fans, and in doing so, gain a loyal following. . For example, in an interview with Nicholas Jason Lopez from The Music Bugle, Magnolia Park's drummer Joe Horsham describes one of his favorite moments with the fanbase. In a show to promote their EP Vacant "the audience was singing every word to all our songs." If Magnolia Park-ers know all the songs after one EP, imagine how buck their fans are going to be after a full album release. Personally, I can't wait.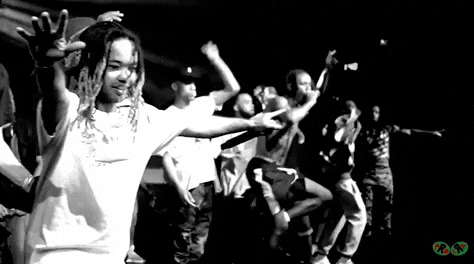 4. They're A Genre-Fusion Band
[blockquote text=""We've been listening to a lot of Movements, Nothing Nowhere, LiL Lotus, Stand Atlantic and old Blink 182. We all have different music backgrounds and preferences so we are always introducing ourselves to new music/genres."" show_quote_icon="yes"]
What's fun about the band is there's five people with all different backgrounds. Their music making process goes through several edits and inspirations before the final cut. The band has a wide range of inspiration across all genres, and their goal as a band is to blend " elements of hip hop, pop punk and emo rock to create a unique and captivating sound" Mike from Never Normal Show says hip hop/emo influence is "showcased on the band's song "Outside"' Mike says with the song "…lyrics 'waste away my summer' …you could imagine it on a modern emo/rap song." Their diverse tastes are exemplified best in their instagram post, listing each members favorite bands and hobbies. Who knew such a diverse group of dudes could come together to create harmonious hooks.
https://www.instagram.com/p/CDg-lLRJIr8/?utm_source=ig_web_copy_link
5. Punks Support other Punks
Mangolia Park members have honored pop punk in their social media presence. Their twitter isn't all about them… but rather promotes the bands that work closely in their scene, playlist curators, and to musicians they admire. Mangolia Park is cultivating a collaborative artists community. For example, in an interview with Fly on the Call, they talk about helping locals with song writing and recording. On their instagram, their guitarist Freddy Criales is transpartent about ghost writing. It is important to lift your neighbors up in  punk. As Joe Horsham says in The Music Bugle…the "pop-punk community is just one big group of friends always welcoming new people to the family."
Be sure to check out their new singles "I Can't Fix It" and "Sick of It All" on bandcamp and all streaming platforms. Peep their linktr.ee to pre-save their upcoming single, donate to the Minnesota Freedom Fund, and follow Magnolia Park on social media.